| | | | | | |
| --- | --- | --- | --- | --- | --- |
| Char | 6Throw | 4Throw | J.Throw | Stage | Stage Name |
| Abel | 0.9 | 0.9 | x | airbase | Small Airfield |
| Akuma | 0.9 | 0.9 | x | temple moon | Deserted Temple |
| Blanka | 0.9 | 0.9 | x | jungle day | Inland Jungle |
| Boxer | 0.9 | 0.9 | x | diner | Drive-in at Night |
| Cammy | 0.75 | 0.75 | 1.0 | winery | Historic Distillery |
| Chun | 1.0 | 1.0 | 1.1 | china day | Crowded Downtown |
| Claw | 1.05 | 1.05 | 1.2 | winery | Historic Distillery |
| Dan | 1.0 | 0.95 | x | jungle night | Pitch-black Jungle |
| Dhalsim | 0.9 | 0.9 | x | boat day | Beautiful Bay |
| Dic | 0.9 | 0.9 | x | volcano | Volcanic Rim |
| El.F | 0.9 | 0.9 | 1.15 | volcano | Volcanic Rim |
| Fei | 0.85 | 0.85 | x | china day | Crowded Downtown |
| Gen | 0.95 | 1.05 | x | china night | Run-down Back Alley |
| Gouken | 0.9 | 0.9 | x | temple moon | Deserted Temple |
| Guile | 0.9 | 0.9 | 1.25 | airbase | Small Airfield |
| Honda | 0.9 | 0.9 | x | bridge | Overpass |
| Ken | 0.9 | 0.9 | x | diner | Drive-in at Night |
| Rose | 1.0 | 1.0 | x | tv stage | Cruise Ship Stern |
| Rufus | 0.9 | 0.9 | x | diner | Drive-in at Night |
| Ryu | 0.9 | 0.9 | x | high temple | Old Temple |
| Sagat | 0.9 | 0.9 | x | boat night | Morning Mist Bay |
| Sakura | 0.8 | 0.8 | x | brige | Overpass |
| Seth | 0.9 | 0.9 | x | lab | Secret Laboratory |
| Viper | 0.9 | 0.9 | x | tv stage | Cruise Ship Stern |
| Zangief | 0.9 | 0.9 | x | train yard | Snowy Rail Yard |
| | | | |
| --- | --- | --- | --- |
| Character | Dash | FA1 | FA2 |
| Chun | 15 | +1 | +7 |
| Abel | 16 | 00 | +6 |
| Fuerte | 16 | 00 | +6 |
| Gouken | 16 | 00 | +6 |
| Dictator | 17 | -1 | +5 |
| Fei | 17 | -1 | +5 |
| Akuma | 18 | -2 | +4 |
| Boxer | 18 | -2 | +4 |
| Cammy | 18 | -2 | +4 |
| Ken | 18 | -2 | +4 |
| Ryu | 18 | -2 | +4 |
| Sagat | 18 | -2 | +4 |
| Sakura | 18 | -2 | +4 |
| Seth | 18 | -2 | +4 |
| Gen | 19 | -3 | +3 |
| Guile | 19 | -3 | +3 |
| Honda | 19 | -3 | +3 |
| Viper | 19 | -3 | +3 |
| Claw | 20 | -4 | +2 |
| Rufus | 20 | -4 | +2 |
| Blanka | 21 | -5 | +1 |
| Dan | 21 | -5 | +1 |
| Rose | 21 | -5 | +1 |
| Zangief | 26 | -10 | -4 |
| Dhalsim | 32 | -16 | -10 |
| | | | |
| --- | --- | --- | --- |
| Character | BackDash | FA1 | FA2 |
| Fuerte | 19 | -3 | +3 |
| Cammy | 22 | -6 | 00 |
| Chun | 22 | -6 | 00 |
| Claw | 22 | -6 | 00 |
| Rose | 22 | -6 | 00 |
| Boxer | 24 | -8 | -2 |
| Abel | 25 | -9 | -3 |
| Akuma | 25 | -9 | -3 |
| Dictator | 25 | -9 | -3 |
| Gouken | 25 | -9 | -3 |
| Seth | 25 | -9 | -3 |
| Blanka | 26 | -10 | -4 |
| Dan | 26 | -10 | -4 |
| Fei | 26 | -10 | -4 |
| Guile | 26 | -10 | -4 |
| Sakura | 26 | -10 | -4 |
| Zangief | 26 | -10 | -4 |
| Gen | 27 | -11 | -5 |
| Honda | 27 | -11 | -5 |
| Ken | 27 | -11 | -5 |
| Rufus | 27 | -11 | -5 |
| Ryu | 27 | -11 | -5 |
| Viper | 27 | -11 | -5 |
| Dhalsim | 29 | -13 | -7 |
| Sagat | 29 | -13 | -7 |
- Rose Max Absorb
364 c.LK c.LK c.MP hcf+LP s
423 c.LK c.LK c.MP qcf+LK s
438 c.HP hcf+MP s
514 c.HP qcf+LK s
- Chip
12 Reflect
20 Spark
25 Spiral
32 EX Spark
73 A.S.Spark
98 Spiral xx A.S.Spark
- Absorb Chip
27 Spark
44 EX Spark
102 A.S.Spark
127 Spiral A.S.Spark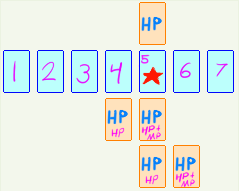 Here is a visual representation of how p-linking works.
In a nutshell: When you kara SF4 reinputs the previous input. So going from HP to MP results in HP on frame one then HP+MP on frame two. Frame two is important because the game treats the HP+MP as a new input, and since HP overrides MP what happens is you get a HP attempt on frame one and another immediate HP attempt on frame two (two rapid-fire HPs).
TL;DR: So with the above example the red star represents a 1F link, you must push HP on that red star frame (frame five) in order for the link to work, any time sooner and it will fail and any time later and it will also fail. Using a single input that means you must push HP on exactly that frame. But with P-Linking you can begin the process on frame four or on frame five and either will result in success. This doesn't actually make the link a "2F link" but it increases the window for execution by one frame which essentially makes it FEEL like a two frame link rather than a one frame link. However this only works with a single kara, double kara attempts result in failure so HP~MP~LP will not give the desired results at all. Also, due to the strength priority of attacks you can only go "backwards" in strength, meaning this is useless for linking LPs and LKs, since there's nothing weaker than a LP and kara'ing LK to LP results in a throw attempt. On a side note, light attacks are actually chainable into themselves and sometimes into other light attacks, meaning you cancel the first light attack rather than waiting for it to finish. This creates a couple complications unique to SF4: first if the light attack is chained you lose the ability to special/super cancel the chained light attack, so in order to do c.LP c.LP qcf+LK it must be a link and not a chain. Second, when attempting to p-link into a higher strength move from a light attack you must avoid using the same light attack, for example with Ryu doing c.LP into c.MK~LP can result in a chained c.LP rather than a linked c.MK, but since both of his lights are chainable it's difficult to avoid this making the link somewhat less "plinkable" than others. I honestly think most of this is very self explanatory and everyone should have gotten the jist of it by now, but for some reason when I first heard about it I had trouble wrapping my mind around it, so w/e.
---
PS. I don't really like the comments system on Blogger because I don't think anyone really notices people's comments and I doubt anyone checks back to see responses to comments made. Thus, I set up a chat box that I put over on the right side of the blog, which I think might work better than comments. I won't disable comments though, FYI.
---
- Copyright © Xenozip.